Discover Melbourne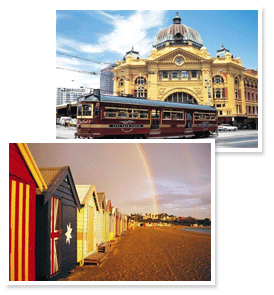 Voted one of the world's most livable cities, Melbourne is a modern and multicultural metropolis of four million people boasting some of the best art, music, cuisine, fashion, performance and design in the country and the world.
Its enviable location, beautiful setting, temperate climate and cosmopolitan lifestyle make it a city that demands to be discovered. The best of Melbourne is hidden in the detail; meander through the city's arcades and laneways bustling with creativity and discover hidden bars, hole-in-the-wall cafes and fashionable boutiques. Venture into Melbourne's character-filled neighbourhoods, such as Fitzroy, St Kilda and Carlton to see how Melbournians still keep their urban frenzy to a wonderfully sedate pace.
Ornate Victorian-era architecture and leafy, established boulevards reflect the city's history, and cutting-edge developments such as Federation Square exemplify its enigmatic contemporary style. Trams lumber through the city radiating out like spokes from central Melbourne, and cycling is a common and very popular way to get from A to Z.
Discover the highlights and uncover the secrets of Melbourne! Walking tours, shopping tours, food and wine tours, sports tours and boat tours abound. The following sites offer further information on experiencing Melbourne and Victoria:
www.visitmelbourne.com
www.melbourne.vic.gov.au
www.visitvictoria.com
Myki
Myki is the smart card ticketing system that is replacing Metcard in metropolitan Melbourne and paper tickets on buses in selected regional towns. In future, myki will be valid for travel on V/Line trains between major regional towns and Melbourne.
myki is a durable and re-usable smart card that stores value to pay your public transport fare.
Many cities around the world have public transport smart cards. myki has been designed to fit our State's unique needs. myki users enjoy an integrated ticketing system that works across the state on trains, trams and buses.
For more information on prices please visit:
http://www.myki.com.au/Fares/Metro-fares
Melbourne Bike Share
A great way to travel around Melbourne
Melbourne Bike Share is a new form of public transport, designed for short trips across the city. Simply purchase a subscription that suits you, take a bike when you need it and then return it to one of the 50 bike stations throughout the city.
For more information on prices please visit:
http://www.melbournebikeshare.com.au/pricing